Celebrating and Continuing in His Abounding Grace! – Lamentations 3:22-24
Your one stop for information for Tabernacle Centennial Information.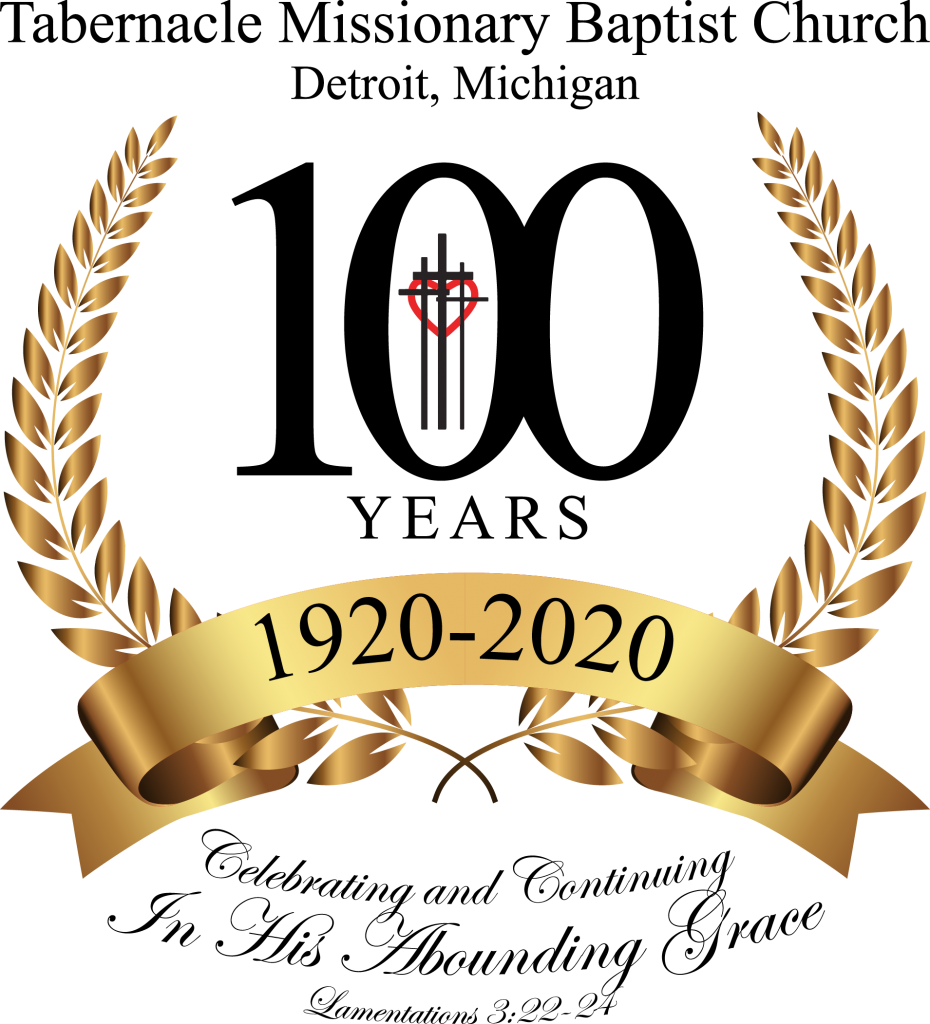 MESSAGE FROM THE CENTENNIAL COMMITTEE
It has been our privilege to serve as leaders of our Centennial Celebration planning. We want you to be Informed, Engaged, and Excited as we embark upon the journey marching toward the grand finale, November 8, 2020.
Please be sure to let us know your questions, comments, and thoughts. We are eager to receive them.
In His Service,
Dr. Walter McLean
Sis. Tommye Hinton Roberts
---
CENTENNIAL EVENTS ::: SAVE THE DATE
Special Prayer & Fasting Focus
February 2020 Prayer Focus: Pray that Tabernacle will be in unity and on one accord for Kingdom purposes (1 Corinthians 1:10)
---
Patrick Lundy Concert
May 30, 2020 at 5:00 pm
Tabernacle Sanctuary – Memorial Day Weekend
---
Church Picnic & Family Fun Fest
July 18, 2020
---
African American Male Spirituality Program
Date To Be Determined – More Information Coming soon…
---
Centennial Gala
November 7, 2020 – 5:00 pm
Rev. Dr. Michael Eric Dyson, Guest Preacher
Crowne Plaza Hotel
2 Washington Blvd | Detroit, MI 48226
Tickets Available in the Tabernacle Cloakroom beginning January 19, 2020.
$125 for adults | $25 for children (3-12 years)
Find out more details by reading the Frequently Asked Questions
---
Centennial Anniversary Worship Celebration
November 8, 2020 – 11:00 am
Tabernacle Missionary Baptist Church
2080 W Grand Blvd
Detroit, MI 48208
Rev. Dr. Lance Watson, Guest Preacher
---
Tree of Life
Click here to purchase Leaf, Stone or Tree
In commemoration of Tabernacle's Centennial Celebration, a permanent wall is purposed to feature the Tabernacle "Tree of Life" that includes 300 miniature brass leaves; Solid Walnut Mini Tree comes with a brass plate with a gold finish; and/or Bronze Cast Stone casted in bronze with a genuine brass plate that will be placed below or beside the tree to recognize or express one's sentiment. The stone may also be used to acknowledge a special gift. Up to six lines of imprinting is possible on this stone, however all imprinting is an additional charge.

The tree, stones and mini trees will be permanently placed in the area across from the Fellowship Hall leading up the stairwell to the second level. The ornate tree, stone and/or mini tree will feature personalized messages from donors. Each message will be granted 20-23 characters/spaces per line with up to 3 lines of text. Families of TAB or other donors may honor or memorialize their loved ones who have contributed to Tabernacle history during this century or will contribute into the next century by purchasing a leaf. Please check the TAB website: Centennial Central for more detail regarding how one may purchase a leaf.
---
Centennial
History Nugget…. A Moment in Time
Centennial History
Nugget……A
Moment in Time
Did You Know?……
February, 2020
During the early winter of 1953, Dr. Jesse Jai
McNeil thought it would be a good idea to organize a young adult group at
Tabernacle to act as a stimulus for this age group. The express purpose would be to have
recreation, outings, and other wholesome activities that would expose Christian
living as something pleasurable and not something to dread. The Young Adult Fellowship was formed. After a few years, the name was changed to
Marr-O-Not Fellowship, which simply means Married or Not.
Do
You Remember…
Tabernacle's
Christian Debutante Ceremony?
The
Foot-Washing Ceremony held during the Week of Challenge?
Tabernacle's
Golf League?
---
SOCIAL MEDIA
Facebook | #TMBC2020
---
Make sure your contact information is updated in the Church Clerk's Office. Submit family, friends, and past member's contact information for Centennial invitations and communication.
Contact the Centennial Committee by emailing: CentennialCommittee@tmbcdetroit.org