Your ONE STOP for information about the
Tabernacle Centennial Celebration
---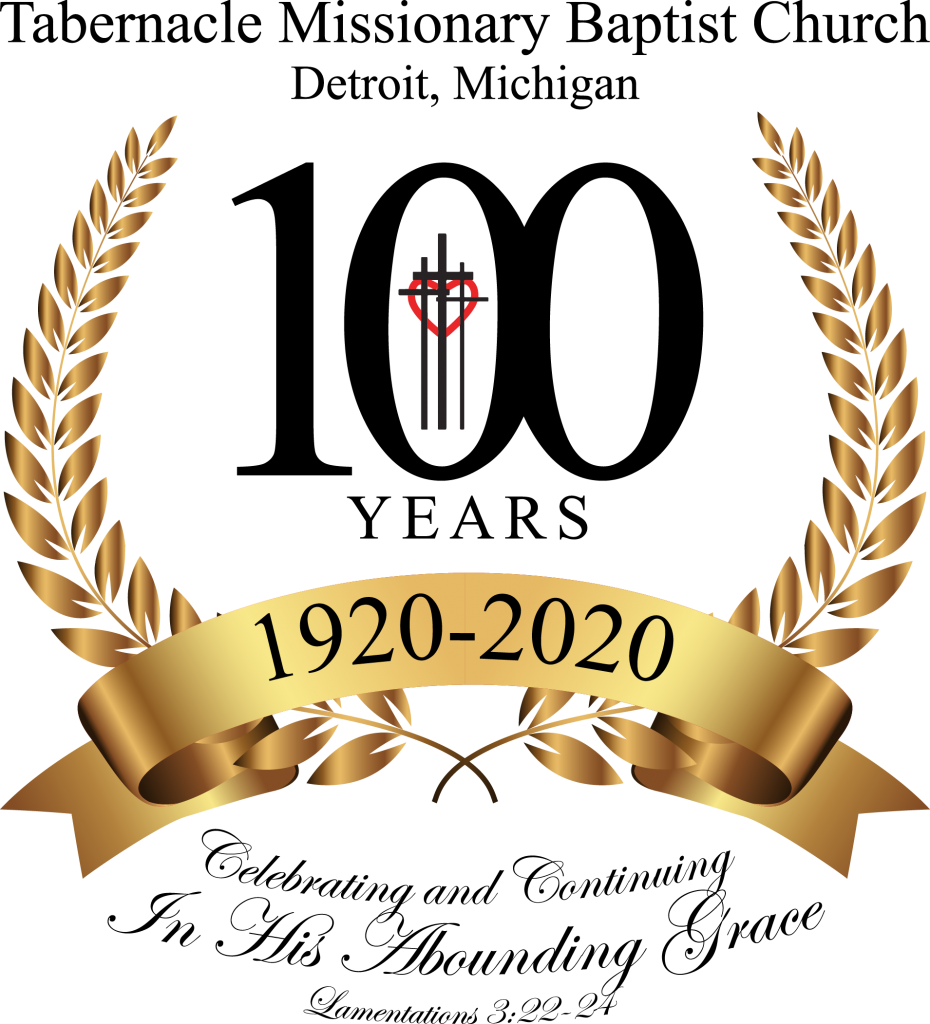 MESSAGE FROM THE CENTENNIAL COMMITTEE
It has been our privilege to serve as leaders of our Centennial Celebration planning. We want you to be Informed, Engaged, and Excited as we embark upon the journey marching toward the grand finale, November 8, 2020.

Please be sure to let us know your questions, comments, and thoughts. We are eager to receive them.

In His Service,

Dr. Walter McLean
Sis. Tommye Hinton Roberts
---
---
Special Prayer & Fasting Focus ~ March 2020
Pray that Tabernacle will be rooted and built up in Christ and established in faith and trust in God (Proverbs 3:5-6)
---
CENTENNIAL EVENTS ::: SAVE THE DATE
Church Picnic & Family Fun Fest
July 18, 2020
---
African American Male Spirituality Program
Date To Be Determined – More Information Coming soon…
---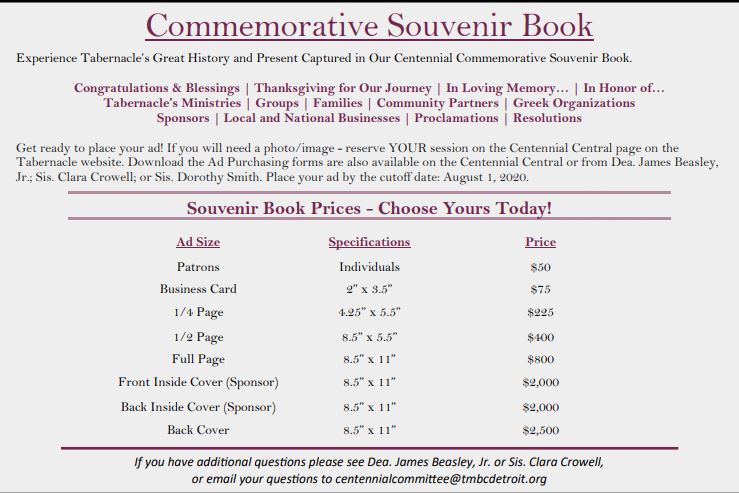 Click Here to Download Souvenir Book Order Form
---
Centennial Anniversary Worship Celebration
November 8, 2020 – 11:00 am
Tabernacle Missionary Baptist Church
2080 W Grand Blvd
Detroit, MI 48208
Rev. Dr. Lance Watson, Guest Preacher
---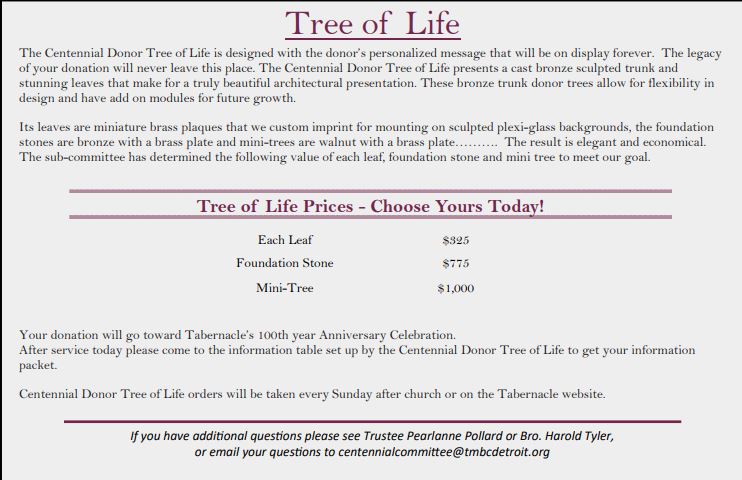 Tree of Life
Click here to purchase Leaf, Stone or Tree
In commemoration of Tabernacle's Centennial Celebration, a permanent wall is purposed to feature the Tabernacle "Tree of Life" that includes 300 miniature brass leaves; Solid Walnut Mini Tree comes with a brass plate with a gold finish; and/or Bronze Cast Stone casted in bronze with a genuine brass plate that will be placed below or beside the tree to recognize or express one's sentiment. The stone may also be used to acknowledge a special gift. Up to six lines of imprinting is possible on this stone, however all imprinting is an additional charge.

The tree, stones and mini trees will be permanently placed in the area across from the Fellowship Hall leading up the stairwell to the second level. The ornate tree, stone and/or mini tree will feature personalized messages from donors. Each message will be granted 20-23 characters/spaces per line with up to 3 lines of text. Families of TAB or other donors may honor or memorialize their loved ones who have contributed to Tabernacle history during this century or will contribute into the next century by purchasing a leaf. Please check the TAB website: Centennial Central for more detail regarding how one may purchase a leaf.
---
Tabernacle Missionary Baptist Church
Centennial
History Nugget…. A Moment in Time
March 2020
Did You Know?……….
During the early history of Detroit, the
westside area was considered the mecca of black culture and rich family
community involvement. The westside was
known for its beauty, community pride, civic involvement and the stability of
the residents living in the area.
Over time, steady deterioration brought about
blight, abandoned houses, bankrupt businesses, and increased criminal
activity. During the 70's, several
neighborhood churches moved their congregations from the area leaving a
significant spiritual gap. Tabernacle
Missionary Baptist Church made the important decision to remain in the westside
community area. The church's commitment
was to the total person, total community, and the total family community. The intent was to develop and implement a
neighborhood development strategy that would give community residents an
opportunity to achieve two major goals: 1) increase the economic resources
available to the community, including land, capital and managerial expertise,
and 2) increase the usage of resources to ensure that they are used to provide
maximum long-run benefits to local residents.
Do You Remember? …..
The fourth Sunday Children's story telling hour
@ the altar? All children 2 -12
would gather at the altar where skillful storytellers such as Dr Byron Douglas,
Sis. Denise Busch, Deacon James J. Beasley, Jr. and Sr. Beuton Bagley-Irvin
among others would tell a relatable everyday life story with spiritual significance
geared toward the children. This learning moment was enjoyed by the children and
adults alike.
The Young Adult Friday Night Dialogical
Encounters? Young Adults would
gather at the church on Friday evening and discuss casually in roundtable
fashion contemporary issues facing them, and encounter scripture as the foundation
for meeting these challenges and issues.
Young Adults back then are Middle to Senior Adults now and included
notable national preachers and sons of TAB.
---
SOCIAL MEDIA
Facebook | #TMBC2020
---
Make sure your contact information is updated in the Church Clerk's Office. Submit family, friends, and past member's contact information for Centennial invitations and communication.
Contact the Centennial Committee by emailing: CentennialCommittee@tmbcdetroit.org