July 16-21, 2023
Metropolitan Missionary Baptist District Association – Annual Session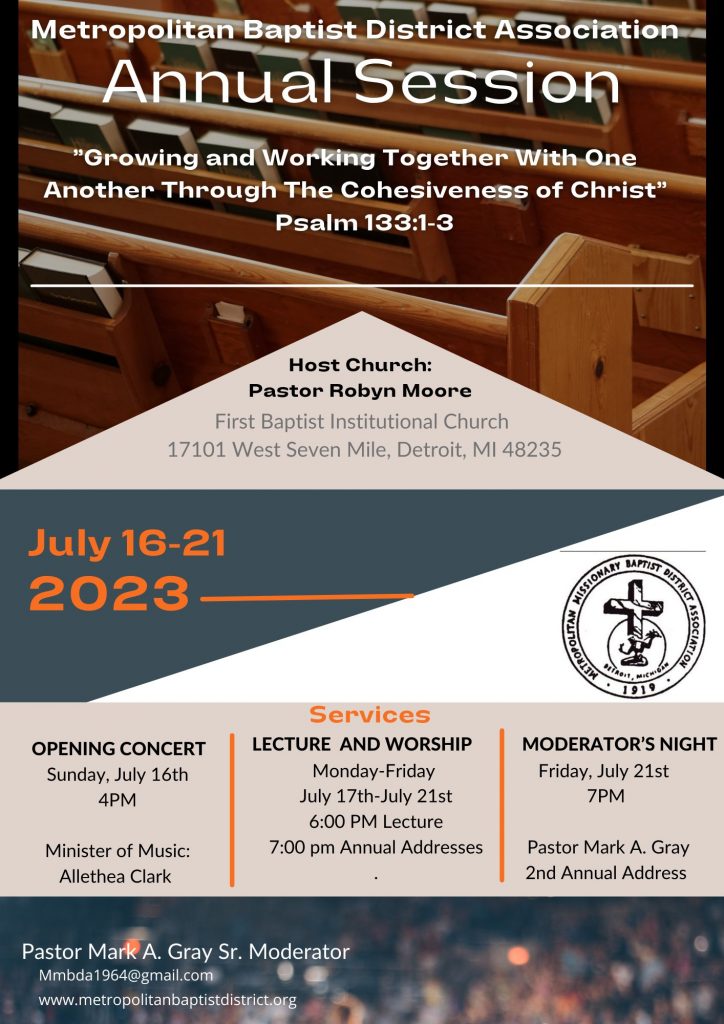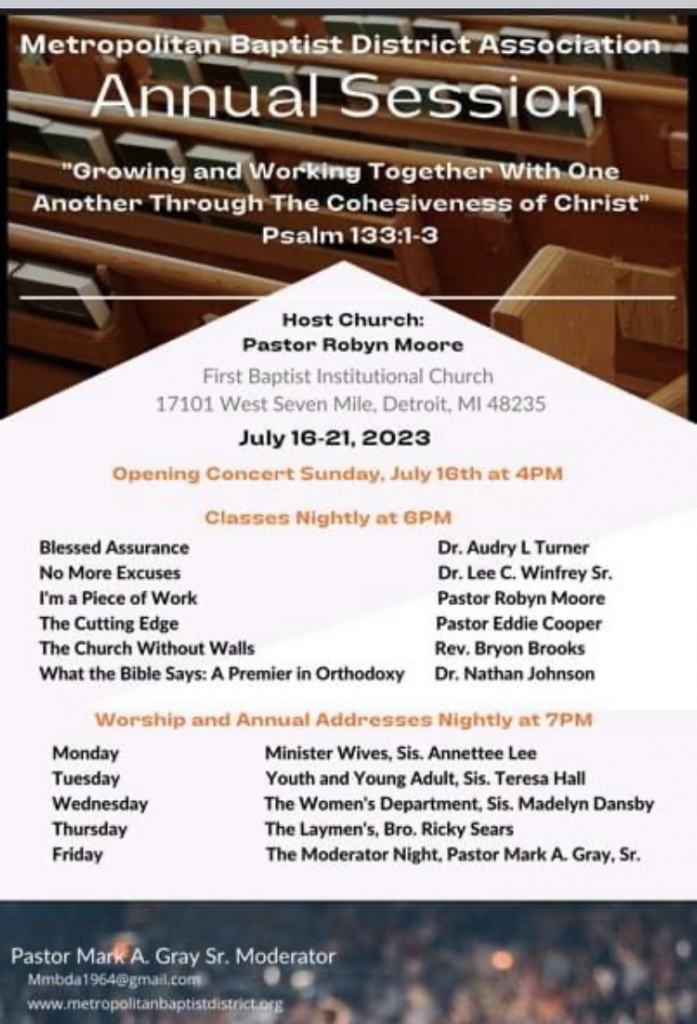 Metropolitan Missionary Baptist District Association 2023 Annual Session

"Growing and Working Together With One Another Through The Cohesiveness of Christ" Psalm 133:1-3

Host Church:
First Baptist Institutional Church
17101 West Seven Mile Road
Detroit, MI 48235
Rev. Dr. Robyn Moore, Host Pastor

Sunday, July 16 @ 4pm Musical
Join Virtually via YouTube: First Baptist Institutional Church
https://www.youtube.com/@FBICDetroit/streams
Monday, July 17 through Friday, July 21
Class Time: 6:00pm-6:55pm
Sign Up for Class: https://forms.gle/DCu3ow8JtjswycLk7
Google Classroom: Class Code = 7pa6djk
Zoom Link for Class Time only
https://us02web.zoom.us/j/85317694799
Meeting ID: 853 1769 4799 – No Passcode
Monday, July 17 through Friday, July 21
7:00pm: Worship and Annual Addresses
Join Virtually via YouTube: First Baptist Institutional Church
https://www.youtube.com/@FBICDetroit/streams
Metropolitan Missionary Baptist District Association
Rev. Mark A. Gray, Moderator
Rev. Dr. Lee C. Winfrey Sr., 1st Vice Moderator
Rev. Kenneth Ricks, 2nd Vice Moderator
Rev. Richard R. White III, 3rd Vice Moderator
Monday, July 17 through Friday, July 21
Class Time: 6:00pm-6:55pm
Sign Up for Class: https://forms.gle/DCu3ow8JtjswycLk7
Google Classroom: Class Code = 7pa6djk
Zoom Link for Class Time only
https://us02web.zoom.us/j/85317694799
Meeting ID: 853 1769 4799 – No Passcode
Blessed Assurance – Instructor: Rev. Dr. Audry Turner – Classroom Location: Great Room
No More Excuses – Instructor: Rev. Dr. Lee C. Winfrey, Sr. – Classroom Location: Chapel
I'm A Piece of Work – Instructor: Rev. Dr. Robyn Moore – Classroom Location: Sanctuary
The Cutting Edge – Instructor: Rev. Eddie Cooper, Jr. – Classroom Location: Upper Room
The Church Without Walls – Instructor: Rev. Byron Brooks – Classroom Location: Computer Lab
What the Bible Says: A Primer in Orthodoxy – Instructor: Rev. Dr. Nathan Johnson – Classroom Location: Conference Room
MMBDA Parent Body and Auxiliary Registration
Parent Body Registration – Location: Count Room
Carver Camp – Location: McGee Room
Laymen's Auxiliary Registration – Location: Lower Level Conference Room
Woman's Auxiliary Registration – Location: McGee Room
Monday, July 17 through Friday, July 21
7:00pm: Worship and Annual Addresses
Join Virtually via YouTube: First Baptist Institutional Church
https://www.youtube.com/@FBICDetroit/streams
Monday July 17: Minister's Wives/Widows Alliance, Sis. Annette Lee
Tuesday July 18: Youth and Young Adult Auxiliary, Sis. Theresa Hall
Wednesday July 19: Woman's Auxiliary, Sis. Madlyn Dansby
Thursday July 20: Laymen's Auxiliary, Deacon Ricky Sears
Friday July 21: Moderator's Night, Rev. Mark A. Gray
Monday, July 17 through Friday, July 21
Class Time: 6:00pm-6:55pm
Sign Up for Class: https://forms.gle/DCu3ow8JtjswycLk7
Google Classroom: Class Code = 7pa6djk
Zoom Link for Class Time only
https://us02web.zoom.us/j/85317694799
Meeting ID: 853 1769 4799 – No Passcode
Blessed Assurance – Instructor: Rev. Dr. Audry Turner
Class Description: God is Good all the Time, and all the Time, God is Good. This course is designed to look back over your life, see how God has kept you, comforted you and B.L.E.S.S.E.D. you. Each day of these course, we will examine a verse of this spiritual, by looking into the applied scripture that encourages you to stay on the journey until we have finished the race. Of course, we will shout to the heavens, singing Blessed Assurance, Jesus is Mine.
BLESSED means Be (a) Living Example Serving Savior Every Day.
No More Excuses – Instructor: Rev. Dr. Lee C. Winfrey, Sr.
Class Description: This course is specifically for men who have a desire to find their God-given purpose in the body of Christ. Sometimes circumstances in life make it difficult for men to be all God wants them to be. The author, Tony Evans urges men to stop looking at their circumstances as excuses and instead to see them as challenges and opportunities for success. Exploring examples of men of God throughout the Bible, this study will challenge you to lay down your excuses, stop compromising, and fight to be a man of character and commitment. Despite any setbacks, failures, and pressures, you can still find purpose, meaning, and direction in life and become the man God has called you to be.
Recommended Text: No More Excuses – Bible Study Book with Video Access Paperback – Illustrated, January 24, 2023 by Tony Evans.
ISBN # 978-1087790275 (Available on Amazon)
I'm A Piece of Work – Instructor: Rev. Dr. Robyn Moore
Class Description: This course places emphasis on women to be authentically shaped by God without shame or embarrassment. The author, Dr. Cynthia H. Hale, celebrates the reader, encourages women to embrace their uniqueness and pursue that "dream" of divine destiny. Being shaped by God, women are taken on a journey to move from brokenness to wholeness. Likewise, this course is designed to help women affirm themselves and to claim God s best. The desired outcome of this course is that some women will begin healing and forgiveness, not just with someone but with themselves.
Recommended Text: I'm a Piece of Work! Sisters Shaped by God Paperback – January 15, 2010 by Cynthia L. Hale
ISBN # 978-0817015718 (Available on Amazon)
The Cutting Edge – Instructor: Rev. Eddie Cooper, Jr.
Class Description: This course is designed to move your local church from status quo ministry into an innovative and creative movement engaging multigenerational members. What does your demographics look like? Seniors vs. Young Adults? Women vs. Men? How do you create a balance by engaging everyone, and that all are growing spiritually, physically, socially and emotionally? In this learning space, we also read a simplified case study and brainstorm forward thinking strategies that addresses a very relevant issue in today's church environment.
The Church Without Walls – Instructor: Rev. Byron Brooks
Class Description: The church is no longer confined or limited to the physical building or even the immediate surrounding community. Every day, global ministry using technology, media and other methodologies bring people to Christ. This hands-on course will take place in the computer lab of the church creating practical experience using social media, email, and other online resources like QR Codes, links, that offer the ability to reach a larger audience, reaching the masses by fulfilling 'The Great Commission'.
What the Bible Says: A Primer in Orthodoxy – Instructor: Rev. Dr. Nathan Johnson
Class Description: Can I lose my salvation? When will Jesus return? What is the Lord's Day, the first day of the week? These are great questions. Join us as we allow the Bible to speak for itself as we seek answers to these and other doctrinal questions. Doctrine matters!
Metropolitan Missionary Baptist District Association
Rev. Mark A. Gray, Moderator
Rev. Dr. Lee C. Winfrey Sr., 1st Vice Moderator
Rev. Kenneth Ricks, 2nd Vice Moderator
Rev. Richard R. White III, 3rd Vice Moderator
Sunday, July 16 @ 4pm Musical
Join Virtually via YouTube: First Baptist Institutional Church
https://www.youtube.com/@FBICDetroit/streams
Monday, July 17 through Friday, July 21
Class Time: 6:00pm-6:55pm
Sign Up for Class: https://forms.gle/DCu3ow8JtjswycLk7
Google Classroom: Class Code = 7pa6djk
Zoom Link for Class Time only
https://us02web.zoom.us/j/85317694799
Meeting ID: 853 1769 4799 – No Passcode
Monday, July 17 through Friday, July 21
7:00pm: Worship and Annual Addresses
Join Virtually via YouTube: First Baptist Institutional Church
https://www.youtube.com/@FBICDetroit/streams
Metropolitan Missionary Baptist District Association
Rev. Mark A. Gray, Moderator
Rev. Dr. Lee C. Winfrey Sr., 1st Vice Moderator
Rev. Kenneth Ricks, 2nd Vice Moderator
Rev. Richard R. White III, 3rd Vice Moderator